St Birgitta Festival, Tallinn, Estonia
10-19 August, 2007
Estonian Philharmonic Choir, 16th August, 2007
Tallinn's St Birgitta festival starts with a huge advantage – the gorgeous setting of a ruined convent on the edge of Estonia's capital. The roof has long gone, leaving a massive stone triangle at one end plus the walls - a dramatic landmark. I visited the festival in 2005 and there have been major improvements since then: a temporary roof protects against the elements; the sound system is vastly improved and the seating is more comfortable. With full houses and loud applause, the festival is clearly a success.
Dance featured more strongly this year with a visit by the Imperial Russian Ballet from Moscow, set up in 1994 with the help of the great Russian ballerina, Maya Plisetskaya. This is a company in its own right, rather than a pick-up group, and their dancing throughout the two evenings was strong in both technique and characterisation. The highlight was "Bolero", choreographed by Nikolai Androsov. Ravel's famous, or infamous, proto-minimalist work, has seen innumerable dance manifestations, perhaps second in number only to the "Rite of Spring". And by golly, there are plenty of failed attempts around, although Estonian National Ballet's version by Tiit Härm is one of the successes.
The setting for this version is a temple with a sculpted goddess on a raised dias and a Highpriest performing rituals, flanked by acolytes. He is full of arrogance and power, with gestural movement brought vividly to life by Gediminas Taranda, co-founder of the Company. As the music develops, the priests move around the stage in intriguing, often assymetric patterns. Eventually the music brings the Goddess to life and she moves among her worshippers, chastising a priestess who has become too close to the Highpriest, and dazzling this leader, who, in the final crescendo, commits the fatal error of joining the Goddess on her dias, and is cast down for his presumption. Rarely has Ravel's score passed so quickly and there was much fun to be had with this inspired dance drama, just staying this side of the ridiculous.
Featured on the same double bill was Alberto Alonzo's "Carmen-Suite" to Rodion Schedrin's re-working of Bizet's famous score. Alonzo's scenario and choreography strips the story down to its basic elements with José's fiancee and the bandit gang banished. Generally, I felt this succinct story-telling worked well, featuring passionate duets for Carmen and José and a strong character role for the Officer. As the tragic soldier, Nariman Bekzhanov was especially good, showing an elegant line and convincingly changing from military stiffness to longing and finally obsession. As Carmen, Anasatassis Mikheikina, was beautiful and displayed her strong technique in Alonzo's steps. But compared with some of the intriguing portrayals of this character we have seen in opera and dance over the past decade, her interpretation of Carmen as a merely inconstant good looker, grated with me. I'm be interested to see another dancer in the role to see whether Alonzo's vision can inspire a more subtle performance.
Mikheikina was much better the following evening in excerpts from Act II of "Swan Lake", as part of a Tchaikovsky celebration of music and dance. Here, despite the limitations of extracted sections, she was able to communicate the despair of the swan princess, while bringing Ivanov's choreography to life. As Siegfried, Bekzhanov again showed that he is a fine dancer, impressing with the height of his jumps and clean landings. The Tchaikovsky programme was shared between the Imperial Russian Ballet, dancing again to the excellent Orchestra of the J. Kolobov Novoya Opera Theatre of Moscow, conducted by Eri klass and a group of local jazz dancers accompanied by the Estonian Dream Big Band. Lead by Antti Sarpila on clarinet and saxaphone. These guys can really swing and it was good to see members of the Moscow orchestra jiggling about in their seats with pleasure to the Estonian band's lively arrangements of the familiar tunes. Overall, this evening was a fun confection, saved from the usual Gala rut by the variation of styles.
I was sorry to miss Carl Orff's "Carmina Burana" earlier in the week-long festival. With Fine Five Dance Theatre's folk and contemporary dance settings alongside the orchestra, choir and soloists, this was one of my favourites from my first St Birgitta Festival in 2005. I understand that this year's revised performance was filmed for television, and hope it will be seen further afield.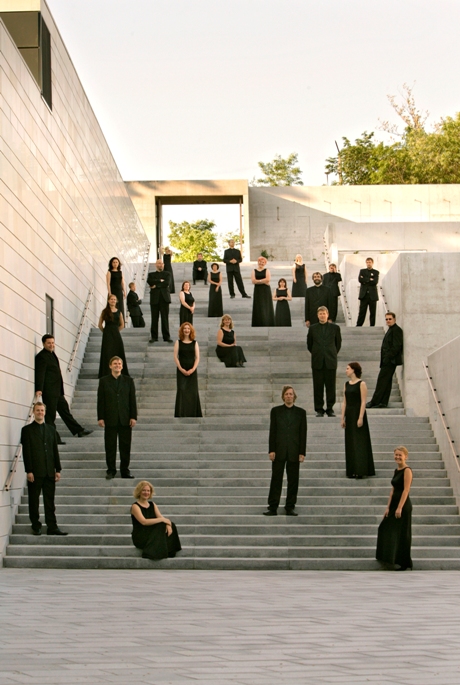 Estonian Phiharmonic Chamber Choir, Photo: Kaupo Kikkas
Not part of the Festival, but taking part in another beautiful concert space, St Niguliste in Tallinn's Old Town, the Estonian Philharmonic Chamber Choir (EPCC), performed a concert of national music, with the second half devoted to sections of Arvo Pärt's "Kanon Pokajanen". I'm always pleased when Pärt's music is used in dance performances, as I know there will be something to enjoy, even if the movement is uninspired. The Grammy award winning EPCC performed this Orthodox canon of repentance with love and precision, evoking a sense of already being in Heaven within the high walls of Niguliste. The first half featured three other Estonian composers, with Cyrillus Kreek's "Maga, maga, Matsikene/Lullaby" achingly beautiful and emphasising how ludicrous was the dismissal of the composer for incompetence from his academy post during the Soviet period. The concert was arranged to coincide with an international musicology conference and two Australian academics were full of praise for this outstanding choir.
Tallinn has much to offer arts lovers throughout the year, but August, with the St Birgitta, an international dance festivals and one-offs like the EPCC concert, is a great time to be there.